9600 Full Synclavier Tapeless Studio (Synclavier 9600+ Direct-To-Disk)
Your chance to own the heritage that has been behind the biggest Hollywood movies and the biggest names in Rock and Classical music.
Completely Overhauled late model GENUINE 9600 complete with full Synclavier warranty.
One previous prestigious owner.
Fully maintained and used in dedicated air conditioned machine room.
The 'Rolls Royce' of all Digital Recording Systems.
For Features and specification of the 9600 system see here and here
For Features and specification of the Direct-To-Disk system see here and here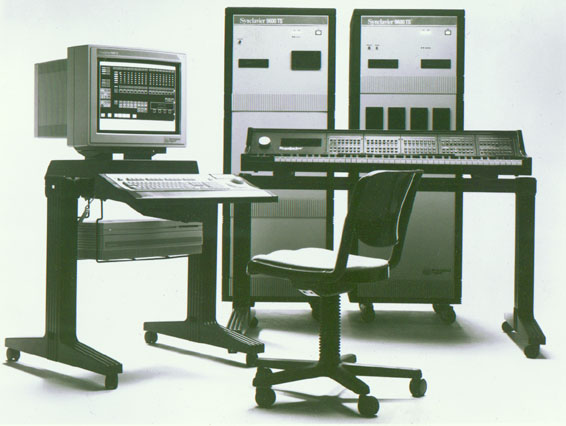 The Synclavier 9600 Tapeless studio
We completed a 6 hour drama (Dialogue, music and sound effects) on an identical system to this and used nothing else AT ALL but outboard reverb and desk channel E.Q. The whole drama was on-line, with no need to reload sections.
We have also recorded an entire album using nothing else but one similar Synclavier to demonstrate it's awesome power. (Download and listen here)
Please Note:
The 9600 Machine for sale has the blue flight case option in place of the black 'skins'. It does have the white front door and the black rear doors.
The Direct-To-Disk option is the blue flight case option and does include the white front door. It is the original D-to-D sold with the 9600 system and differs visually from the system in the picture above but not in specification.
The systems are heavy and produce heat and noise from the multiple exhaust fans. The towers should be located out of the control room.
Price Guide: E-mail us your offer for this chance to own a unique part of history
This system contains:
1 Synclavier 9600 tower comprising;

32 DDV 100Khz 'stereo' sample voices (64 x 100Khz military DAC's)
32 Stereo FM voices (The famous Synclavier sound)
Resynthesis (convert sample to FM )
SFM (Scientific anaylsis and manipulation of audio)
Microsecond sample accuracy
10 minutes dedicated MegaRAM
100Khz stereo sample input (Highest quality convertors)
VPK keyboard - the famous big black keyboard with real piano feel
Massive sound library collection (inc. many famous user sounds)
Full SMPTE time code tracking in slow motion too!
Dedicated Synclavier software - all you will ever need!
200 track sequencer with full Real Time Effects manipulation
Full Music Laser Scripting System
32 in, 128 out MIDI + MTC tracking
16 dynamically assigned balanced line audio outputs.
Records and Plays any sample rate from 1Khz to 100khz.
True full 16 bit resolution right down to zero volume
Suitable for full music score and sound design from one system.
Model D High Speed Processor with Mac422 option
(Includes a NuBus Mac to operate the system)

1 Direct-To-Disk tower comprising

6 Days total record time across 16 tracks
Any record or playback from 1Khz to 100Khz
True full 16 bit resolution right down to zero volume
Fastest editing interface for Disk recording
Still wins blind listening tests today for pure quality
Suitable for very long recording projects (6 hour dramas no problem)
Automatic seemless editing.
True non destructive editing and cross fades.
The only recording system that can do the 'sound of the Synclavier' justice - use it to free up voices of the 9600.
Military spec build quality, it will last as long as you.
Completely integrated with the 9600 - no need to swap between software modules or synchronise - press start and the systems run together phase locked from the same sequencer.
Nothing Sounds Like A Synclavier.
To purchase or enquire further click here
More Synclaviers for sale click here