Synclavier 9600 Features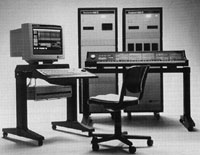 pictured above is the combined PostPro Direct-to-Disk and Synclavier 9600 system
Nothing approaches the power of the PostPro for editing speed and sheer operational flexibility. When added to the Sound Design of the Synclavier audio system it produces the ultimate Post Production machine. An entire movie including music (composition and playback) Sound Design, Dialogue and all editing locked to time code (even in slow motion) can all be completed from the one system.

16-bit, 1kHz to 100KHz Recording (24 bit option)
4 to 16 Tracks with up to 6 days recording!
FastTrax Removable Storage Devices
High speed multiple DDS drive backup and archive
CMX Autoconform Software
Graphical Apple PPC G4 software interface
Transfermation® On-line/Off-line Librarian
Optical Library Storage of On-Line Sound Effects and atmos.
SMPTE vari-speed tracking, VITC, MTC
Automatic dubbing chart generation
DSP time compression/expansion and sample rate conversion.
Option of the Synclavier sample and FM voices and VPK keyboard for the ultimate in Post Production, Sound Design and Music Composition and Production

The fact is, nothing even approaches the power of the PostPro. Other systems offer similar features, but none put it all together with the same capacity, ease of use and speed - and speed is the name of the game.
Other disk recorders force you to work their way. Not the PostPro. You can operate it just like a conventional multi-track tape recorder, or as a totally non-destructive random access editor. Use the powerful sequencer style editing interface that integrates RAM, disk and MIDI control; or the intuitive Editview graphical tape style editor, a powerful object-based interface that has become the industry standard setter. The choice is yours.
Some digital audio workstations make you wait while they process even the most basic edits, such as ramps and cross fades. But the PostPro has been designed from top to bottom for real-time performance. Whether locking to SMPTE (all frame rates plus VITC and MTC are supported), making a multi-track edit, or spotting a library effect to picture, the PostPro responds instantly and reliably - every time.
Connectivity? The postPro support SMPTE, VITC, MIDI, and RS422 serial machine control standards, and offers the UDI/O module for stereo SP/DIF, S/DIF, and AES/EBU interfaces. Compatibility? The PostPro fully supports our unique inter-platform software, allowing you to batch transfer files in a variety of standard formats, OMF, SDII, AIFF, WAV, CD-ROM, CD-Audio, MP3 etc., and with on the fly sample rate conversion. And only the PostPro gives you the flexibility of variable sampling rates - anywhere from 1KHz to 100KHz in .1Khz increments, so you can deal with anything the client hands you - from high end D-2 production to multimedia authoring.
The PostPro is totally modular and completely expandable. You can start small with 4 tracks and build the system up to 16 tracks with almost unlimited storage capacity on-line. Our ultra high speed removable storage systems assures you of unlimited recording time, just like tape. Simply fill up one set of drives, pop them out, insert new drives, and keep recording without interruption (in the unlikely event you manage to fill all the available space in the top spec. 6 day recording model). Then back up off-line on any Macintosh computer or using the inbuilt high speed multiple DDS backup drives.
You can add options such as our SAC-70 option, with high quality time compression, expansion and sample rate algorithms. Or our CMX Autoconform software, the fastest and most reliable way to automatically load and conform source material.

For sfx, sound design and music production, you can even add a complete Synclavier sound design module, based around the renowned Synclavier Sampling and FM synthesis technology. With up to 126 voices and 758Mb or sample RAM, the Synclavier audio system is the industry's most powerful random access device, allowing you to swap sounds freely between disk and RAM technology, taking advantage of the Synclavier audio system's unmatched sound design capabilities.
The Synclavier Velocity/Pressure keyboard is the secret weapon of The PostPro SD option. While many workstation interfaces try to layer many different functions under a set of controllers, the V/P keyboard puts each function under a operate button. This, coupled with the ability to change the timbral characteristics of a sound in real-time while locked to picture, accounts for the system's tremendous speed.
Only the PostPro SD lets you go beyond cutting sounds...it helps you create new ones.