Synclavier 9600 Features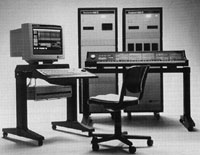 With up to 128 voices, 2.5 hours of sample RAM storage and optional 16 tracks of Direct-to-Disk™ recording, the Synclavier audio system is the world's most powerful digital audio workstation.
The Synclavier Velocity/Pressure Keyboard (VPK) sets the standard for fast, intuitive editing interfaces. It makes even the biggest productions easy to handle.

Up to 96 (198 x 100KHz DAC's) Sampling and 32 FM Synthesis Voices

Expandable to 2.5 hours of Sample RAM

Sound Design, Timbre Layering and Resynthesis

76 Note Velocity Pressure Keyboard

Transfermation® On-line/Off-line Librarian

Optical Library Storage and Direct-to-Disk Multitrack Options
SMPTE vari-speed tracking, VITC, MTC
Control of up to 512 MIDI devices from the 200 track sequencer

For creative music production, sound design, and post production to picture nothing works faster or matches the Synclavier audio system for sheer capacity and breadth of capability.
Only the Synclavier audio system lets you configure a system with up to 96 sampling and 32 additive/FM synthesis voices - matrixed against 16 discrete analogue outputs. And with our groundbreaking MegaRAM memory, you can expand it's sampling capacity for more than 2.5 hours of continuous recording at 44.1KHz - more than many hard disk recorders.
What's more, with the Magneto-Optical storage option, you get virtually unlimited storage capacity - plus access to hours of professional quality music and SFX libraries from leading vendors like East-West Comms., Prosonous, Sound Ideas, Lucas Film, Valentino, Hollywood Edge and more. But no matter how large your library gets, managing it is a snip with our Transfermation Librarian, which lets you search for sounds on-line and off-line by name, caption, category or wild card characters.
The 76 note Velocity/Pressure Keyboard, with the feel and finish of a concert piano, in conjunction with a range of software interfaces, puts and extraordinary arsenal of sound design features and versatility at your finger tips. The Sound Editor lets you edit out clicks and pops with up to 1/100,000 of a second accuracy. (That is microsecond accuracy in techno speak). There are no fewer than three techniques for looping samples as well, with phaseless crossfades up to 65 seconds long.
In addition, the powerful Resynthesis and analysis program can be used to build synthesised sounds from sampled sounds, which can then be further modified with additional harmonics, timbral envelopes, and FM modulation. Sounds can also be layered, with as many as four different sampled or synthesised sounds (can be mixed) assigned to a single note or range of notes, creating timbres of incredible complexity and richness. Volume envelope chorus, arpeggiation, pitch and amplitude modification may be used to complete the effect.

You can add the Synclavier PostPro Direct-to-Disk™ Recording option, giving up to 6 days of 16 track hard disk recording, integrated under the control of the Synclavier audio system software - giving you one central interface for sampling, synthesis, sequencing and disk recording. Powerful, ultra high-speed removable disk drives assure you of unlimited recording time, just like tape.
What this sheer power guarantees is that what you start at the Synclavier audio system you can finish at the Synclavier audio system - for example, the complete music, effects, and voice-over elements for a commercial, or industrial, from composition to mixdown. Or a reel's worth of Foley/Footsteps, from spotting to dubbing. And you'll work faster than the competition down the street with all the MIDI boxes and interface boxes and pull down menus, because everything you need is integrated right into the Synclavier audio system.